Enjoy your next paddle with Florida Paddle Notes!
One of the best things about getting on Florida waterways in my kayak 'Stumpknocker' is the ability to explore the scenery up close and personal.  It's nice to get to those hard-to-reach spots or shallow side trips other boats can't access. I love being close to mother nature and Florida Paddle Notes is all about exploring the natural beauty of these different habitats.
Hi, I'm James Steele, and welcome to Florida Paddle Notes. I grew up in Miami Florida in the '50s and '60s and was always around the water. The Florida Keys, The Everglades, and the many beaches and waterways throughout South Florida were my backyard. Consequently, as a teenager, I bought my first Mohawk canoe and started to expand my paddling adventures. Soon, I made my way up the state, and am now living at Tranquilla Cove Homestead, near Orange Springs venturing out on new and exciting waterways.
Things all changed…
In 1972 I purchased a 5-acre lot in a very rural subdivision called Rum Island Estates, just outside of High Springs, Fl. The property, located on sandy Rum Island Road, was a short walk to a gorgeous spring called Rum Island Spring, right on The Santa Fe River! Needless to say, I was in heaven! Back then the spring was rarely visited except by the few locals.  It was there, on the Santa Fe River, that my love for paddling went to another level.. Almost daily, I explored the Santa Fe River and the numerous springs along its journey to the Suwannee River. Many warm sunny days were also spent exploring the pristine 6 miles of the Ichetucknee River, yet to be a state park, as it flowed into the Santa Fe.
Now, 48 years later, I am retired and still enjoy being on the waters of Florida. With Florida Paddle Notes I want to combine my love for the water, an interest in photography, horticulture, and nature to help make planning your next adventure on the water a bit more interesting. I hope you enjoy this site and perhaps I will see you on one of Florida's amazing waterways!
---
Meet Stumpknocker…
The Perception Pescador Angler 12′, Sit-On Kayak is a stable, easy-to-paddle kayak. I have it fully customized for photography and the hull design makes for great tracking on lakes or rivers. The extra large cockpit opening provides plenty of room to work with my photography equipment and offers easy entry and exit.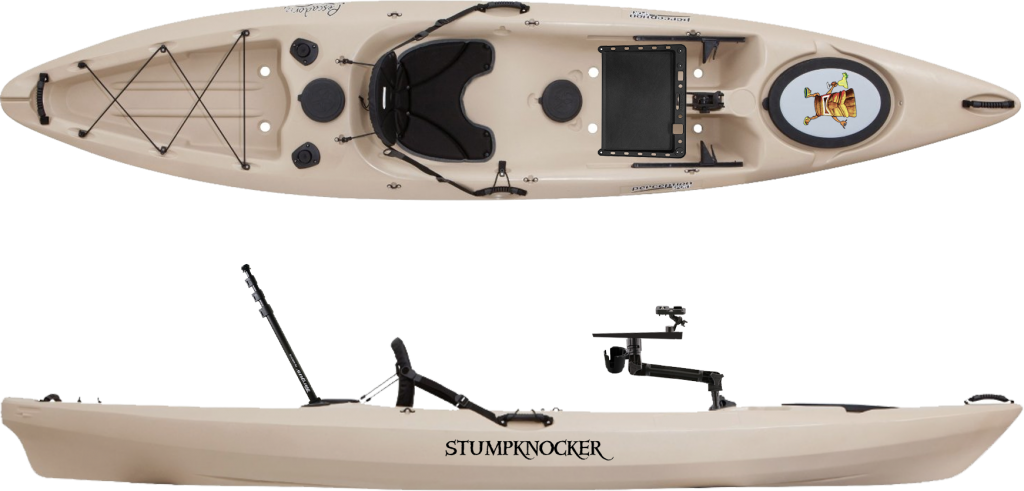 Specifications
Length 12' ~ Height 15" ~ 28″ Wide ~ Weight ( without equipment ) 64 lbs ~ Capacity 350 lbs.
Accessories
Keepers foot brace system ~ Bow hatch, center and stern day hatches and a stern tankwell with bungee ~ Comfort carry handles ~ Paddle Park ~ Scotty Portable Camera Mount and extender ~ Scotty Baitcaster Rod Holder ~ Scotty Bait Accessory Table ~ 2 Flush Mount Rod Holders ~ 3.5 lbs Anchor w/Cleat ~ Targus Extending monopod with GoPro Mount ~ Pijio Coccyx Orthopedic Comfort Memory Foam Seat Cushion
---
THE WATERWAYS ~ FPN RESOURCES ~ ABOUT FPN ~ CONTACT FPN
---