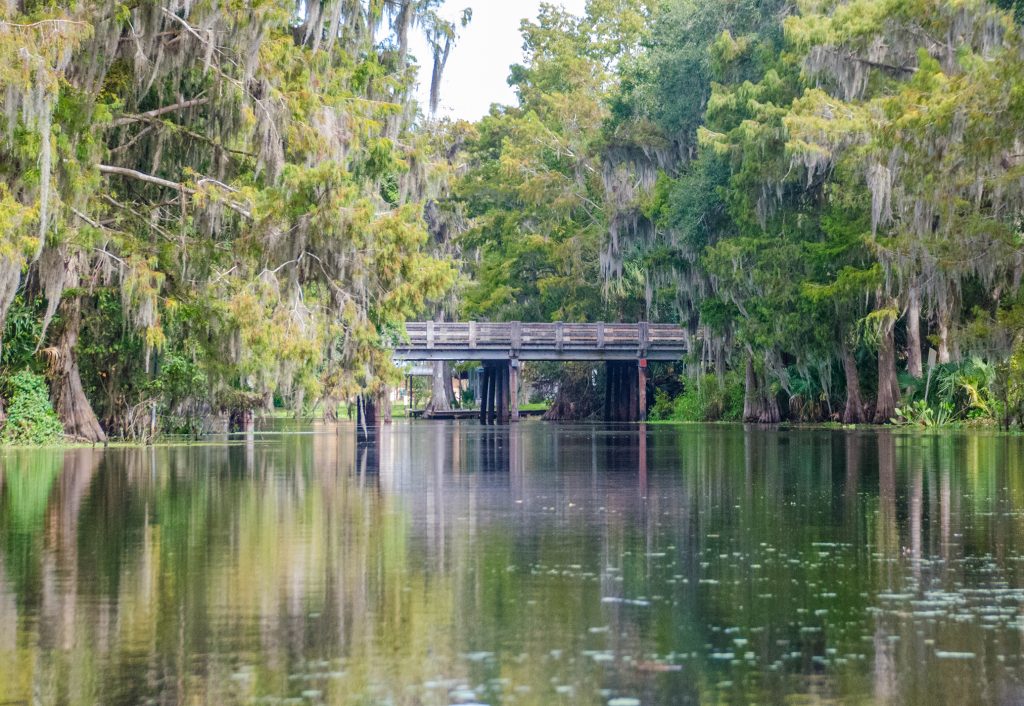 The Paddle Notes:
My original post for Cross Creek was in October 2018 and contains detailed information and can be viewed here…
---

---
A breezy day on The Creek…
It was a breezy, mostly overcast day in the low 80's as we launched at the Majorie Kinnan Rawlings Park boat ramp.  With 10 kayaks, The Boll Green Aquaholics paddled on The Creek out to Little Lochloosa Lake and returned back at the ramp.
The breeze, off of Orange Lake was at our back as we paddled the canal and entered The Creek.  The water level was normal and unchanged since my last visit in mid-October. A very casual, uneventful paddle, though there were still numerous flowers blooming along the water's edge.  Tickseed Sunflower, Climbing Aster and Primrose Willow provided natural bouquets along the way. Several Herons, Morehens and numerous small blackbirds were prevalent throughout the Creek. The updated photo gallery is below.
---
Little Lochloosa Lake…
As we entered Little Lochloosa Lake there was no buffer to the wind.  The Lake was very shallow, no more than 2 feet in the area we stopped at.  Numerous mats of grasses, water hyacinths and spadderdock floated throughout the lake, and in our area broken branches and submerged scrub was prevalent.
Turning back for the return paddle, the sun broke through the clouds and we paddled into a very strong wind coming off of Orange Lake. The wind was a challenge in the open area of Cross Creek, but buffered once back in the sheltered portions.
It is actually a pleasure paddling out of The Creek and into the canal that connects the creek to the launch.  It is a very narrow canal with areas of Cypress and Spanish Moss blowing in the breeze…very picturesque.
I always enjoy paddling The Creek because it is a short paddle and very scenic.  Beautiful Cypress and Oaks create a nice canopy, the homes, boat houses and dock present a quaint picture of Creek life.  The flow is slow indeed!
After our paddle we enjoyed getting together at The Yearling for a late lunch, some cold beer and enjoyed the blues of Willie Green ending another chapter of Florida Paddle Notes.
Cross Creek Gallery:
Cross Creek Flora & Fauna: