Brief Overview:
Fort De Soto Park is a park in Pinellas County, south of St. Petersburg. It is located on Mullet Key, the main key of 5 offshore keys that include Bonne Fortune Key, St. Jean Key, Madeleine Key and St. Christopher Key. The keys are connected by bridges and are accessible by a toll road.
This area was inhabited by the Tocobaga Native Americans and later Spanish explorers Panfilo de Narvaez and Hernando De Soto. This was the beginning of Spain's conquest of Florida. In 1900 the fort was named after Hernando De Soto. Both Fort De Soto and Fort Dade, on Egmont Key contained batteries of artillery and mortars to protect Tampa Bay. In 1923 both forts were officially abandoned and in 1948 Pinellas County designated Fort De Soto and Mullet Key a recreational area. On May 11, 1963 Fort De Soto Park was officially dedicated.
---
Fort De Soto Details:
Location: Fort De Soto Park is located at 3500 Pinellas Bayway S., Tierra Verde, FL 33715, south-southeast of St Petersburg, Fl.
Launch Point: There are several launch points for paddling this area.  Many can be located right off of Pinellas Bayway South, there is an excellent boat launch with 11 floating docks on Madelaine Key just before the entrance to the campground, and several areas to launch from campsites and the beach inside the park. We launched directly from our campsite. The are a few outfitters available for rentals, one directly in the park, Topwater Kayak Outpost.
Topwater Kayak Outpost – 727-864-1991
Coastal Kayak Charters – 727-207-6342
Paddle Distance: The paddle distances can vary depending on where you choose to paddle. From our campsite…
to North Beach on Mullet Key – 2.1 miles one way
to circumnavigate around Madelaine Key, St. Jean Key and St. Christopher Key it is 4.12 miles
We did not paddle to Egmont Key due to the fact of not wanting to cross a major shipping lane and being out on the open water. Egmont Key 1.6 miles to the closest point on Mullet Key/Fort De Soto Park.
Difficulty: Easy to moderate. Most of this paddle is in shallow protected waters. Keep and eye out for boaters if venturing out in the open waters! Wind can be an issue.
Average Paddle Speed: 2.1 mph. This was lower due to paddling against a strong wind when we circumnavigated the keys.
Width and Depth: The depth can be any where from 1′ to several feet depending on the tide.
Current – Tidal: There are tides that range from just below 1 foot to 2 1/2′
Side Paddles: There are several paddles to choose from and explore the 5 keys.
Rest Areas: Restrooms available at the campground and at designated areas along the Fort De Soto beach.
Important Information: Watch the winds, tides, thunderstorms and if venturing out in open water beware of boats and currents.  Sunscreen and bug repellent highly recommended.
---
The Paddle Route…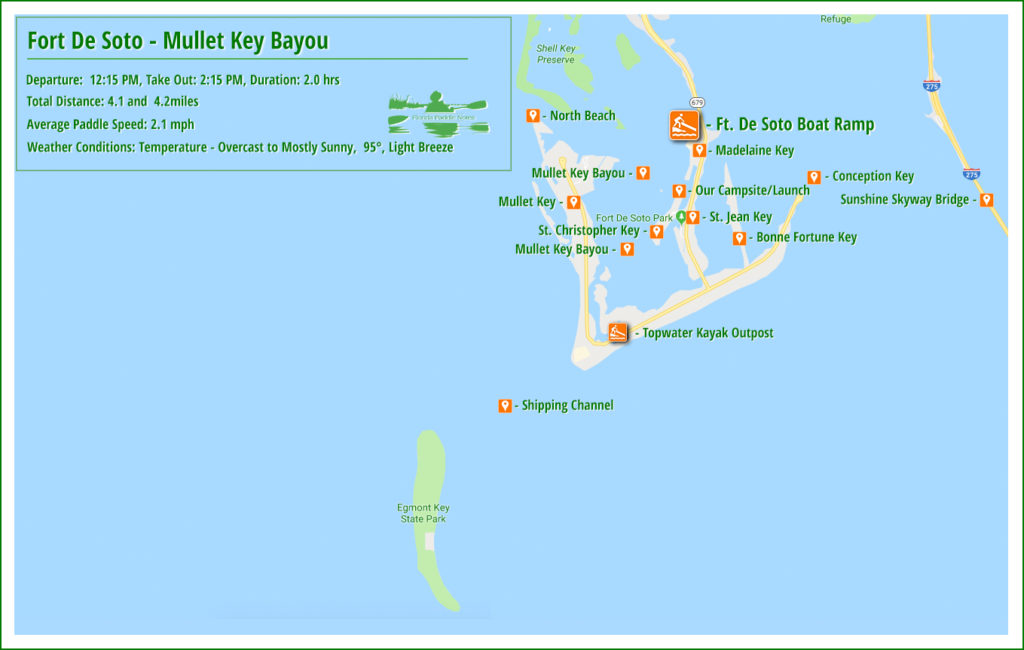 ---
Great Campsites, backyard launch…
Fort De Soto Campground is our ideal pic for yearly summer vacations. Located south of St. Petersburg, this campground has wonderful campsites to choose from and we've never been disappointed yet! An added benefit is having the water in our backyard! Launching is as simple as sliding your boat in the water and getting in. In our case there is a seawall so we bring our collapsible ladder that really helps as the tide changes.
Sites #165 – #204 offer waterside access. #165 – #198 are on the East and open to a protected lagoon, while sites #200 – #204 open to the West and Mullet Key Bayou. Sites #1 – #36 have no seawall and a large sandy/grassy area with clean access to the water's edge. See the Campground Site Map here.
Mullet Key Bayou…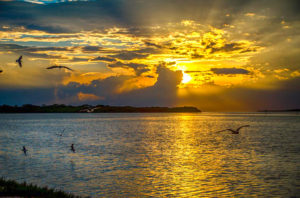 Mullet Key Bayou is the body of water West of the campground and protected from the gulf by the Fort De Soto beaches on Mullet Key. Our paddle destination is the north tip of the beaches called North Beach. It is a two mile paddle from the campground to North Beach over shallow waters. A well marked and well used boating channel connect Tampa Bay to the Gulf of Mexico. We keep to the side of the main channel and paddle close to the shoreline.
This is a great area for wildlife. Numerous shorebirds and wading birds are everywhere. Pelicans, Osprey, Herons, Egrets, Laughing Gulls and more. A good fishing area for trout, redfish, snook and mullet. Cormorants will literally board your boat at times, as well as follow alongside as you paddle.
Once at North Beach, it is time to enjoy the sandbar that forms there and cool off in the crystal clear salt water.  The pass to the Gulf averages about 1000′ wide. It is a busy recreational boating channel and you will find many boaters anchored on the sandbar to enjoy the cool clear water. Others are fishing, sightseeing or off to other destinations. While sitting on the sandbar we have watched Dolphins as well as Manatees pass by.
Mullet Key Bayou offers some of the most beautiful sunsets as well…
Paddle the Keys…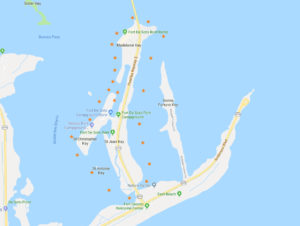 Five keys make up the main Fort De Soto park area,  Bonne Fortune Key, St. Jean Key, Madeleine Key, St. Christopher Key and the largest Mullet Key. A nice paddle is to head north from the campground along the east side of Madelaine Key, past the boat docks, under the bridge, then round the tip and head South. The east side of Madelaine Key host many birds to include several Osprey nests, while pelicans own the boat docks as well as the pilings under the bridge.
Heading South, we paddle along the mangrove shoreline of St. Jean Key and looking out to the East can see the Sunshine Skyway Bridge in the distance. Also to our left is Bonne Fortune Key. It is 1.5 miles until the lower portion of the paddle takes us under the Pinellas Bayway South bridge that leads to the Fort De Soto beaches. Here we enter back into Mullet Key Bayou with some stiff winds, head North along St. Christopher Key and return to our campsite.
---
Billy's Stone Crab & Seafood…
I can't end the post without a plug for Billy's Stone Crab & Seafood in Terre Verde. After a long day of paddling, swimming and enjoying the sun it is definitely time to relax in the upstairs loft bar, enjoy a beautiful view, sunset, cold beer and good food. It is up here where we relax with good friends and enjoy the awesome tunes of Pete Merrigan. On this particular trip, Pete was kind enough to allow Donna and I take the stage to perform John Prine's "In Spite of Ourselves". It was a quite inpromtu but we pulled it off.
We love coming down here with good friends and enjoying nature and are always treated to a good time and an enjoyable paddle!
---
Fort De Soto – Mullet Key Gallery:

---
Fort De Soto Flora & Fauna: