Well, it's time to add another '1st' to my kayaking of Florida waterways. I have always been familiar with North Fork Black Creek. It is another location I had the pleasure of surveying in the early '70s. Our company traversed the North Fork of Black Creek, determining water levels over a 100 year period. I spent many days, weeks walking through the creek swamps, locating survey 'Bearing Trees' *, some over 150 years old, and a survey corner carved into an old cypress stump! 
* A bearing tree witnesses the location of a survey corner by means of what surveyors call a tie (bearing and distance) between the center of the base of a bearing tree and the survey corner. We often had to dig over 3′ to find these corners!

When I first 'reconed'  the river last week the water level was at 6′ and flowing strong, due to the recent rains. Today, just a week later, the water level was 3.5′ lower and the current was less swift. Still high enough for a very good paddle with no obstructions. We decided on the 7-mile paddle that begins in Jennings State Forest at Indian Ford and ends in Middleburg, 7 miles downstream. This paddle requires two vehicles as there is no shuttle…James
Brief Overview:
Black Creek is a 13.0-mile-long tributary of the St. Johns River. It is located in Clay County, Florida. Black Creek has two major tributaries; North Fork Black Creek and South Fork Black Creek.
North Fork Black Creek originates as an outflow from Kingsley Lake and flows north and then east through Camp Blanding and Jennings State Forest, meeting South Fork in Middleburg, Florida. North Fork Black Creek has Yellow Water Creek and Big Branch as its main tributaries. The confluence of North Fork Black Creek and South Fork Black Creek 1.25 miles east of Middleburg form the main channel of Black Creek.
The creek is named for the water coloration, caused by the presence of tannin from decaying leaves and vegetation. It is considered to be one of the cleanest creeks in the state. In shallow areas, the creek water is stained red, and in deeper waters, the water appears black. Sections of the creek have eroded surrounding terrain and have formed deep ravines. The lower creek basin is affected by the tidal influences of the St. Johns River. ( Wikipedia )
---

Black Creek Details:
Location: The section of North Fork Black Creek that we paddled today is located in Clay County, beginning in Jennings State Forest and flowing southeast to Middleburg.
Launch Point: Indian Ford Recreation Area, located in Jennings State Forest. There are three other access points to launch from in the state forest, Powell Ford – 6.3 miles upstream,  Ellis Ford – 4.2 miles upstream, and Knight's Landing – 2 miles upstream…( upstream from Indian Ford )

Take Out Point: Middleburg ( Main Street ) Public Boat Ramp located at 3788 Main Street, Middleburg, 32068.
Paddle Distance: 7 miles from the Indian Ford launch, 9 miles from the Knight's Landing launch, 11 miles from the Ellis Ford Launch, and 13 miles from the Powell Ford launch.
Difficulty: Easy to moderate. Could be difficult if trees are downed and current is swift.

Average Paddle Speed: 2.6 mph.
Width and Depth:
Black Creek at Indian Ford launch is 40′ wide, at the Middleburg Boat Ramp –  200′ wide
Depth today – 2.1′.  Flood Stage = 16′
According to Elizabeth Smith, a primary administrator at Jennings State Forest, the ideal water level to experience North Fork Black Creek is 2.25′ – 2.5′ which allows for the faster flow without having to portage.
Current – Tidal: A quick current for the first two miles due to recent rains, then steadies as the creek widens. Tides do not affect this section of Black Creek.
Side Paddles: NA
Rest Areas: Depending on the water level, there are numerous sandbars and sandy banks to pull over and enjoy the cool water and take a break.
Important Information: Watch for downfall, swift currents during the rainy season, and the heat in summer!
---
North Fork Black Creek Paddle Map…
---
Indian Ford Launch…
The launch site is located at the very end of Hattie Nolan Road. The first mile and quarter of this road is paved and the next mile and quarter is a sandy, graded road, followed by a semi-paved road to the launch. During times of heavy rain, this middle section can become tough to drive on, and sometimes it is closed. Check-in with the Jennings State Park website and they usually have notices posted at the top of the site about road closures.
There are no bathroom facilities here but plenty of woods. There is a picnic table and grill with ample, paved parking. Presently day-use fees are waived. It is a 200′ grassy slope to the water's edge.
Google maps and Siri sometimes give false readings to get to Hattie Nolan Road. From Middleburg, travel west, on Hwy 218, 5.4 miles to Nolan Road. Turn right onto Nolan Road and travel north, 1.85 miles to Hattie Nolan Road. Turn right onto Hattie Nolan Road, travel east, 2.9 miles to Indian Ford Recreation Area, and the launch.
---
North Fork Black Creek, the first 4 miles…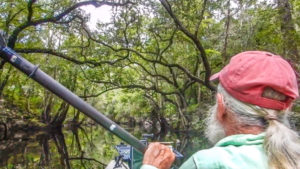 We had a late start time, 12:15 PM, and by now the temperature was already in the '90s. Fortunately, we launched and paddled ( at least for the first three miles ) under a cooling canopy of Bay, Tupelo, and River Birch. The Bay and Tupelo formed scenic arches overhead, while large clumps of River Birch and Virginia Willow lined the steep banks. The banks, ranging from 5′ to over 10′ high, were characterized by the freshly deposited alluvial white sand from a previously fast flowing creek. The sands created numerous 'beaches' along the first 3 miles of the creek, offering many places to choose to rest or have lunch.
The creek was dark, about 8′ deep in the beginning, and while paddling over the white sand exposed the familiar orange-colored tannin these Florida blackwaters are famous for. It was surprisingly quiet, serene would be the actual word. We drifted and paddled, off and on admiring the landscape. While the abundance of trees and shrubs were Bay, Tupelo, Willow, and River Birch, there were also large Pines, Bald Cypress, Gums, Oak, and Maples. It was interesting to see the growth habit of the River Birch, usually an upright handsome tree, now growing in thick clumps along the banks and leaning over into the water.
Many of the trees were fruiting. Ogeechee Tupelo, River Birch, Swamp TiTi were all displaying fruit and racemes. Of note as well, were the numerous Trumpet Creeper vines, in bloom almost the entire first 4 miles. There was very little wildlife the first 4+ miles except for a couple of deer that stood on the bank and watched as we paddled by. We ate lunch in a very scenic bend in the river with white sand and cool water.
---
---
The last 3 miles…
We saw our first home a little over two miles into the paddle. Here the canopy overhead begins to thin out as the creek widens. We saw just a small handful of homes until we reached mile 4. Here, on both sides of the creek, was a display of all manner of homes from old trailers to beautiful, large homes. The further we paddled the more elegant the homes became and we found ourselves enjoying looking at the lovely landscaping, the unique presentations of character and decor. The creek is still beautiful. While the canopy overhead is gone, the Tupelos, Bays, and Birches continued, along with some large oaks, to provide a very pleasant view and a pleasant paddle.
We reached the SR 21 bridge ( Blanding Blvd. ) at mile 6, briefly appreciated the shade it cast, then paddled the remaining mile, past Pirates Cove and up to the Middleburg Public Boat Ramp, ending our 7-mile paddle. By now it was a very hot 95° and after recovering our second vehicle, still at the launch, we drove to a favorite of ours, Whiteys Fish Camp for a cold beer and great food! This was a very pleasant paddle and we will definitely return. I imagine it looks great in the Fall and is on the list. Check it out!
---
Guides, Maps & Info…
---