Today we paddled close to home. One of the last remaining sections of the Ocklawaha River, that I have paddled but have yet to document. The entire Ocklawaha River – Bear Creek Loop, which begins at the Hwy 19 Bridge, goes East to the St Johns River, then back up Bear Creek, is about a 10-mile paddle. Today, however, we paddled a 6.5-mile loop, entering Bear Creek 3.5 miles down the Ocklawaha.
The plan was to paddle the open Ocklawaha River and return on a semi canopied Bear Creek, where we would be cooler on the return segment. Not to be. While Bear Creek was less wide than the Ocklawaha, it provided minimal respite from the sun and the 95° heat…James
Brief Overview:
Bear Creek is a distributary of the Ocklawaha River. It originates as a small 35′ wide creek, 1/2 mile East of the HWY 19 bridge, 19 miles North of Salt Springs. The creek basically flows 4.25 miles Southeast on its winding way to the St Johns River.
The creek parallels the Ocklawaha River on the South, along the north border of Little Lake George Wilderness. At 0.75 miles Bear Creek passes north of 8PU644 Bear Creek Indian Mound. This mound is associated with the Acuera Indians. The tribe belonged to the Timucuan or Timuquanan linguistic division of the Muskhogean linguistic family. Further reading on this can be downloaded here.
At its source, the creek is approximately 35′ across and widening to 75′ by the time it meets the Ocklawaha at mile 2.5. Here, Bear Creek continues on its own as a 30′ canopied stream until it reaches the St Johns River at 100′ wide. The flow is slow and gentle.
Bear Creek is a wonderful paddle through a typical Bottomland Hardwood Forest. Often flooded, bottomland forests are characterized by Cypress, Gum, Bay, Ash, Maple among others. The trunks are usually fluted and often form a tangled canopy overhead. The shoreline is loosely defined with the typical 'Swamp Smell', which are gases produced by decaying bacteria and vegetation. Bear Creek is known for its diversity of Flora and Fauna.
---
Bear Creek Details:
Location: Bear Creek originates as a small 35′ wide creek, 1/4 mile East of the HWY 19 bridge, 19 miles North of Salt Springs, Putnam County, Fl.
Launch Point: Johnson Field Boat Ramp on Hwy 19.

Paddle Distance: Round trip for this paddle was 6.35 miles
Difficulty: Easy. Could be difficult if trees are downed on Bear Creek

Average Paddle Speed: 2.0 mph.
Width and Depth:
St. Johns River 1/4 mile wide, 40′ deep in the main channel
Bear Creek, 25′ – 80′ wide, depth variable from a few feet to over 6′
Ocklawaha River 130 – 150′ wide, variable depth 8'+
Current – Tidal: Gentle current
Side Paddles: This trip does have two side paddles. Once on the Ocklawaha, 1.0 mile downstream on RL is Boyd Creek and at 2.6 miles, also on RL is Turpentine Creek.
Rest Areas: There are no rest areas along this loop.
Important Information: Watch for downfall on Bear Creek. Be prepared for the sun and heat.
---
Ocklawaha – Bear Creek Loop Paddle Map…
---
Johnson Field Boat Launch…
The launch site is on the southeast side of the Hwy 19 bridge that crosses the Ocklawaha River. It is a long, concrete, wide, and a bit steep, but in good condition. There is plenty of parking, nothing paved, and no facilities, no fees.
We expected to see many more vehicles/trailers today but there was only one other. At the launch, it is just under a 1/4 mile, along the bridge to the Ocklawaha River.
---
The Ocklawaha River…
The Ocklawaha River at the Hwy 19 bridge is about 135′ wide as we head eastward. Mats of Spadderdock form large scattered clumps along each side. It is a hot day, there is no boat traffic and flow is gentle.
The Scarlet Rose Mallow and the white Swamp Lily, provide splashes of color along our way, while an occasional Blue Heron and Ibis fly along the shore. The river is quiet today. We pass the entrance of Bear Creek 1/2 mile into the paddle and note that this is where we will be coming out on our return trip.
At mile 0.95 I note a passage through the trees to Bear Creek on RR and just past this is the incoming Boyd Creek at 1.0 mile, RL. There is not another 'marker' until mile 2.2 RL, Turpentine Creek. Beyond that a short loop on RR and soon we are at our crossover destination, Bear Creek.
---
Bear Creek…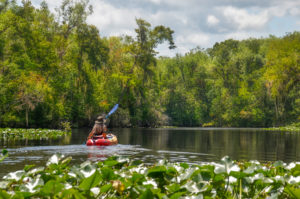 3.4 miles down the Ocklawaha, we come to our crossover point onto Bear Creek. The creek is slightly less wide at this point but it too is open, no canopy. At this point, we are hot and ready for lunch. As soon as we enter the creek, there is a large Bald Cypress on the right, providing plenty of shade and it proved to be a very good rest spot to chill for a while.
One noticeable thing on Bear Creek was the numerous gators, We did not see one gator on a log or bank ( as there are no banks, but we did see them crossing the creek ahead of us, silently watching us as we approached and disappearing under the water. As we approached mile 4.8 of our journey, a large gator bellowed as we approached and I marked the spot on the map. Definitely a 'Gator Hole' and we did not investigate. I do not recall any birds on the creek, something it is known for and it was probably just too hot for them. Still, there were plenty of Scarlet Mallows in bloom as well as Swamp Lilies and the numerous Bartram's Airplants in so many trees.
My summary…the paddle was so so. It was hot, on this section of Bear Creek, there was no canopy, no relief.  Wildlife was minimal but as an ex-horticulturist, it's always good to see the blooming aquatic plants. This paddle, at least for me, is best in the Fall or early Spring!
---
Additional Ocklawaha River posts by Florida Paddle Notes…
---
Guides, Maps & Info…