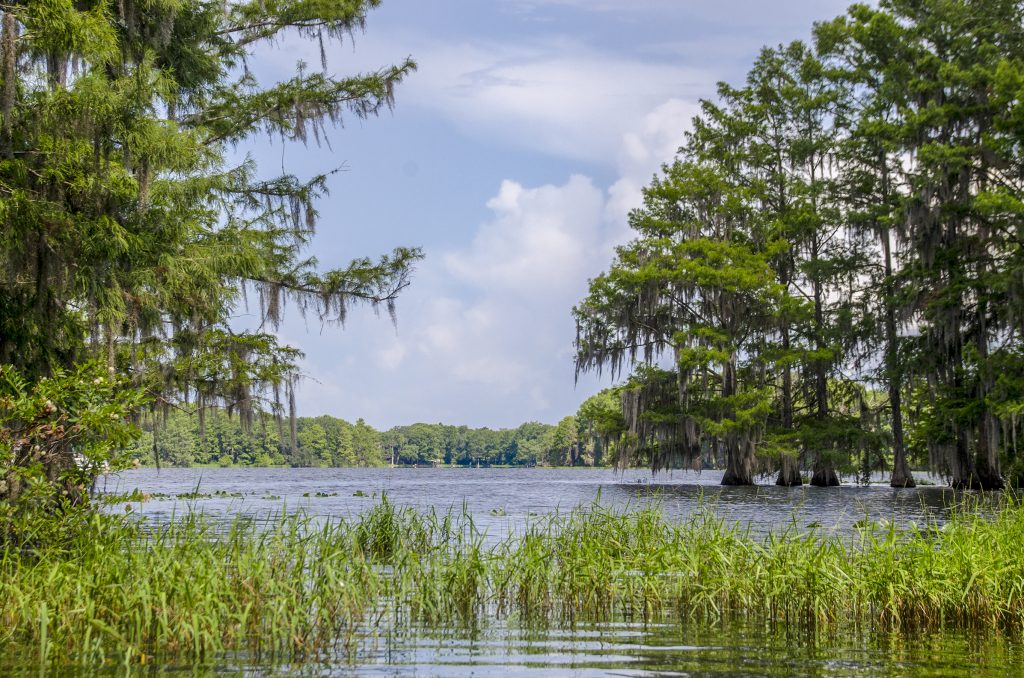 Overview:
Tsala Apopka Lake is a chain of lakes located within a bend in the Withlacoochee River with a surface area of over 19,000 acres. Tsala Apopka Lake is located in Citrus County in north central Florida. The area contains numerous lakes, heavily vegetated marshes and swamps that encompass several islands and is often referred to as The Cove of the Withlacoochee. There are three main open water pools that define the majority of the lake, the Floral City Pool, the Inverness Pool and the Hernando Pool.  Today's paddle was on the Floral City Pool which is made up of Hampton Lake and Floral City Lake. In 1539 the de Soto expedition crossed through the middle section of the Cove.  There are numerous archaeological sites throughout the area.
Lake Details ~ Paddle Notes ~ Flora ~ Fauna
---
Floral City Lake Details:
Location: Our paddle was located between Inverness and Floral City.  4.4 miles South of Inverness on Hwy 41 is E Gobbler Dr.  Our launch was approximately 1.5 miles East on Gobbler Dr. This is the connecting point of Hampton Lake North of Gobbler Dr and Floral City Lake, south of Gobbler Dr.
Launch points: For this paddle, our launch was just under 1.5 miles onto E Gobbler Dr. The launch is on the Southwest corner of the bridge.  It is a rough gravely entrance down to the water and there are no signs identifying the launch.
Paddle Distance: Our paddle from the bridge launch to our destination Sleepy Hollow Restaurant and Bar was 1.7 miles making the round trip 3.4 miles
Difficulty: Easy
Average Paddle Time: Our one way paddle took us around 45 minutes, with an average paddle time of 2.3 mph
Width and Depth: The paddle started out on open water in Floral City Lake. We entered a small distributary where the width varied from 50′ to 100′. In the main lake, Floral City Lake, the depth is around 38′ at it's deepest point and around 15′ along our paddle route.
Current – Tidal: Minimal current on this trip. Not tidal.
Side Paddles: There are numerous side paddles that we will surely explore on future visits.
Rest Areas: On this paddle there were no rest areas until we reached our final destination.
---
Paddle Notes:
Where's the launch?…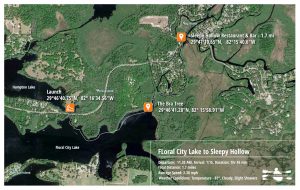 We checked the map before we left home, reached E Gobbler Dr. as expected and turned onto Gobbler heading East.  Immediately there was a boat launch sign and we were on the right track. After crossing the only bridge I knew we'd be crossing and seeing no boat ramp sign we continued East on Gobbler. A mile or so down the road was the Sleepy Hollow Restaurant and Bar…our paddle destination! We had to have passed the launch and yes, at the bridge, on the southwest side was the unmarked launch.  It was a tight gravel road going down the slope to the water, a small 'park' with minimal parking.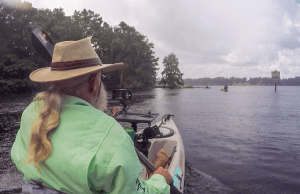 With the remaining of our paddle partners having arrived, we launched. This launch site is the dividing line that connects Hampton Lake and Floral City Lake.  These two lakes make up what is the 'Floral City Pool' of the Tsala Apopka Lake Chain. We headed out on Floral City Lake and not two minutes into the paddle we were treated to a rain shower that only lasted about 10 minutes or so.
The 'Bra' Tree…
The paddle to Sleepy Hollow is a pleasant one. We started out in open water in Floral City Lake and followed the northern shoreline, densely populated with Cypress Trees, Maiden Cane and Buttonbush, in full bloom. Rather than continue following the shoreline we did take a little adventure through the Cypress Trees which was an interesting addition to the paddle. At 0.8 tenths of a mile, just before leaving the lake to enter a distributary on the northeast corner of the lake is what we call 'The Bra Tree'. It is a lone Cypress Tree decorated with ornaments of different sorts, bathing suit tops and bottoms as well as an assortment of bras and topped of with the American flag!  I would of love to watch how many of these items were placed on the tree!
---
On to Sleepy Hollow…
There is a distributary ( for lack of a better term ) that leaves the northeast corner of Floral City Lake meandering around a small subdivision on Hick's Island.  The journey along this waterway, averaging about 100′ wide, is both beautiful and entertaining.  Lined with lush green foliage from the Cypress Trees the paddle is 'cooling' and pleasant.  Homeowners along this waterway certainly have a sense of humor.  Obviously knowing up ahead is Sleepy Hollow Restaurant and Bar, docks and decks are decorated with anything from pirate flags and signs to skeletons in trees, that watch as you paddle by,  There is even a patriotic mannequin that stares blankly ahead from her place on a dock. At approximately 1.7 miles on on journey we reach Sleepy Hollow Restaurant and Bar.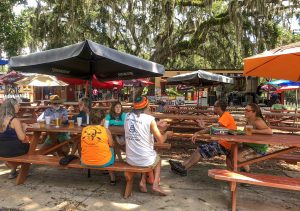 This was our destination. $7.00 Ribeye Steak dinner for many and for me, Gator Tail.  The food is good and the service and servers excellent.  A live band just came on stage and  kicked out some great favorites while we dined at picnic tables with umbrellas.  The umbrellas came in handy as the sky once again opened up and poured rain on us for about 15 or 20 minutes.  This is the kind of place you want to go on an afternoon and chill out.  Large Live Oaks shade the area well, the grounds are interesting and the atmosphere was total chill! Refreshed with great food and cold beer it was time for our return paddle and close another chapter of Florida Paddle Notes
---
Flora:

Trees: While I know there are many varieties of trees in this chain of lakes, but on this paddle the main feature was the numerous, lush – Bald Cypress – Taxodium distichum

Shrubs, Grasses, Aquatic and Flowering Plants: As with the trees, on this particular paddle the normal group of wetland plants were not abundant except for the Buttonbush – Cephalanthus occidentalis, which was in full bloom all along the shoreline and the Maiden Cane – Panicum hemitomon.
Trees, Shrubs, Grasses, Aquatic and Flowering Plants – Gallery:
---
Fauna:
While I am sure there is a wide variety of animal life throughout this lake chain and wetland, today I have not seen any to photograph, which is a first for me!