The Paddle Notes:
My original post for Prairie Creek was back in September 2017 and contains detailed information about the Creek that can be viewed here...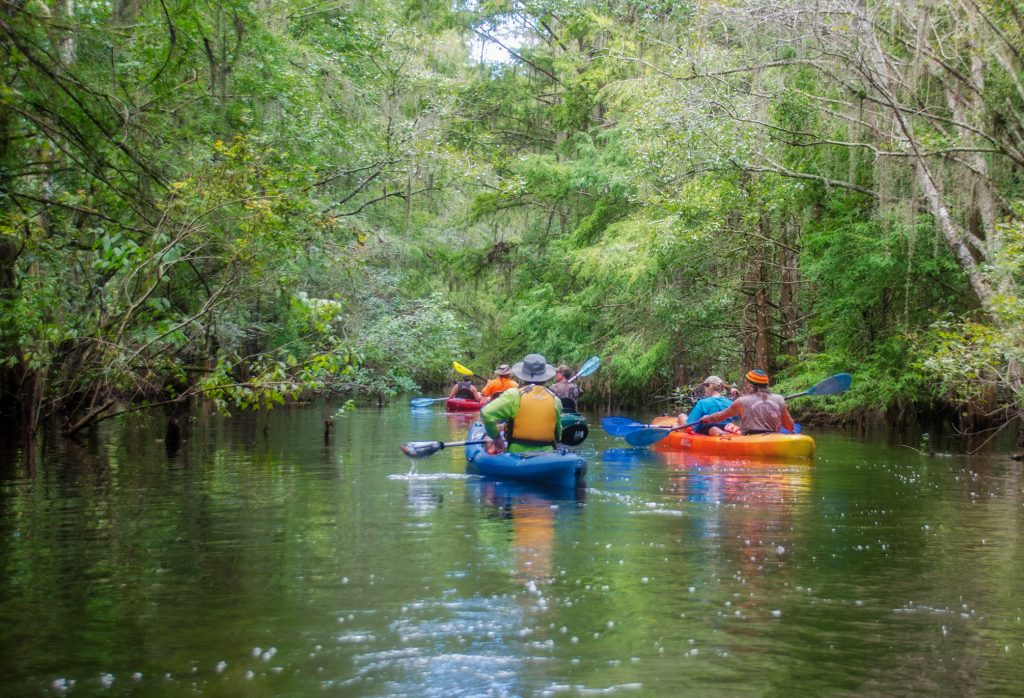 One year after Hurricane Irma:
It's been a year this month that Hurricane Irma and associated storms flooded Prairie Creek.  This year, comparing photos, the water level is about 1 1/2′ lower but still high and flowing.
Due to the high water we decided to launch on the southeast side of SR 20 instead of at Earl P Powers County Park, as seen on the photo to the left. Launching from SR 20 is a bit tougher as there is a steep slope down to the creek and requires a portage of about 125′.
---
A very serene Prairie Creek…
With a brisk current, we launched and began another adventure on the creek. It was a warm 84° and the water was nice and cool. The creek was vibrant with many birds to include a Wood Stork, Ibis, Limpkins and Egrets. We saw one small gator and one quite large wasp nest in a low hanging branch.
One of my favorite sections of the creek is between the transmission line ( 0.37 mile from our launch ) and the beginning of Camp's Canal. This section was a very serene paddle, especially as we entered the tall Cypress forest. It was quiet and we drifted, dwarfed by the tall Bald Cypress on both sides of us. Very beautiful. Be sure to view the gallery below.
At 1.17 miles from our launch, is a favorite rest stop, the picnic table ( 29°35'55.32″N, 82°14'54.89″W ). The surroundings have grown and the table can be easily missed.  We relaxed before moving on. Just under 900′ past the rest area we go under a trail bridge ( 29°35'49.85″N, 82°15'0.22″W ) and enter some beautiful scenery.  Several very large Oaks and Cypress can be seen in this section.
Camp's Canal, the final stretch…
At around mile 3.4 is the beginning of Camps Canal. In 1927, Camp Ranch, Inc. dug this canal diverting water from the Paynes Prairie Basin to Orange Lake through the River Styx. In 1975, the flow of water from Newnans Lake to Paynes Prairie was partially restored.  The Prairie Creek Water Contrtol Structure can be seen at mile 3.5 along the creek.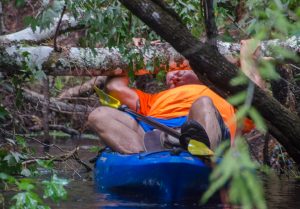 This final stretch along the canal is mostly open overhead.  During low water, Duckweed clogs the waterway but on this trip in high water it was clear except 2/3 of the way into the canal.  We hit a 20′ wide, thick, clog of Duckweed that took everything I had to paddle through it. On top of that there was one more 'limbo tree' to maneuver and some folks literally had to lay flat out in their kayak to get under it.
With obstacles behind us, the last stretch to the CR 234 bridge was smooth.  The sun was now out and it was getting warm. Time for lunch!
---
Prairie Creek 2018 Gallery:
Prairie Creek 2018 Video:
The video suffers on quality in some areas due to lighting, however it will give you a good idea of what it is like to paddle Prairie Creek when the water is high.

---
Following are the more specific details of the paddle which can also be viewed in my original post from 2017
Prairie Creek Paddle Map and Details:
Location: This section of Prairie Creek is located 5.8 miles SE of Gainesville on HWY 20. Kate's Fish Camp, visible on the North side of HWY 20, is located just under a 1/4 mile South of the creek's start on Newnan's Lake.
Launch point: The launch for this paddle was on the southeast side of SR 20 bridge. Launching from SR 20 is a bit tougher as there is a steep slope down to the creek and requires a portage of about 125′ alongside the Gainesville-Hawthorne Trail.
Take-Out point: The take-out is located CR 234 on the SW bank over the bridge.
Rentals are available at Kate's Fish Camp, 6518 SW Hawthorne Road, Gainesville, FL 32641. 3(352) 372-1026.
Paddle Distance: 4.1 miles
Difficulty: Easy to moderate depending on the water level. At lower levels there are some trunks in the water that can be tricky to maneuver over and may even require getting out of the kayak to help it off the logs. It does take some strength to maneuver some of these obstacles.
Average Paddle Time: We paddled this, during high water in 2 hrs 20 min. Several obstructions added to this time.
Width and Depth: The creek usually varies from 40′ to 75′. The water level is definitely variable sometimes a couple of feet to several feet during high water
Current – Tidal: Fed by Newnans Lake and rainfall.
Side Paddles: There are no side paddles along the creek. There are some swamp ponds along the East side of Camps Canal but these are often full of Duckweed.
Rest Areas: There are minimal rest areas, though if nature calls there are some areas. There is a picnic table at 1.2 miles, a nice oak tree at 2.63 miles.
---
Keep up with new paddles here to receive an email notification when a new adventure is posted…sign me up! Check out past paddles here and follow Florida Paddle Notes on Facebook !